New Jersey Towing & Junk Car Services
---
Junk Car Removal in Northern NJ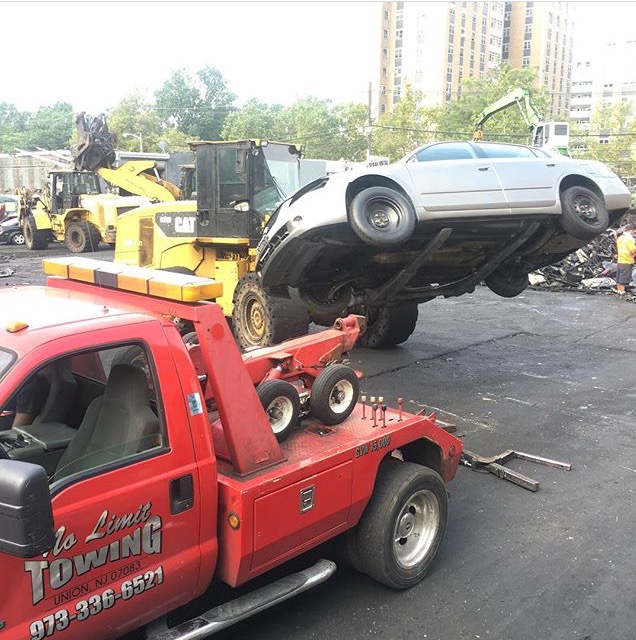 At No Limit Towing & Cash for Cars, our years of experience in the junk car removal business means that you will get the best possible price for your older, high-mileage car from a team of professionals that knows how to treat its customers. Our towing and removal service work around your schedule, so you receive cash for your car at your convenience.
If you are trying to get a fair price for your car but have no idea what it's worth, give us a call. We'll be happy to give you an estimate, especially if you have already received a price from another company.
Emergency Towing Services
Our towing service includes a fleet of newer model trucks ready to pick up your car at a moment's notice. We keep our tow trucks well-maintained because we know how important it is to be ready to help our customers in emergency situations.
Furthermore, our dispatcher will be more than happy to answer any questions you have about the car removal process. At No Limit Towing, our first order of business is our commitment to our customers. Our reputation for trustworthiness and reliability is how we stay in business.
Junk Car Recycling
Generally, junk car removal companies make money by selling the cars they buy to scrap metal dealers to cover their towing costs and to produce a small profit. By paying money for old cars, junk car companies start the vehicle recycling process that breaks down wrecked or unwanted automobiles for spare parts and scrap metal. Although car recycling has been around since the 1930s, the last decade has taken the recycling process to new heights. Nowadays, nearly every single part of a junk car can be recycled, even the oil.
As a result, the junk car business not only helps customers who have no use for their older automobiles, but it also does its part for the environment. Essentially, the cash for cars business has become an integral part of the automotive industry's efforts to protect the environment and to promote social responsibility. Furthermore, it's also part and parcel of the larger scrap metal industry.
The Scrap Metal Industry
Over the years, the scrap metal and the scrap metal recycling industries have become essential parts of the U.S. economy. In addition to providing jobs, they generate billions of dollars of revenue annually. While revenues have fallen a bit over the past five years, the industry still has room to grow. Believe it or not, other countries such as China can boost revenues in the United States because they purchases a ton of recycled American steel products. If their economy grows and their development projects increase, they will need more steel for building, which will provide a burgeoning market for our goods.
Scrap Metal Prices and Tariffs
When China announced in 2018 that it would stop accepting recycled waste material, including many scrap metals, the scrap metal industry held its breath as it feared losing one of its major markets. Soon thereafter, however, President Trump enacted tariffs on imported aluminum and steel in an effort to reduce imports. Consequently, domestic reuse and recycling of old metals increased significantly as manufacturers added recycled scrap metal to their production lines.
Interestingly, this help in the form of tariffs arrived at a time when our country was already producing a majority of its steel and aluminum from recycled scrap metal derived from multiple sources such as construction sites, razed buildings and old automobiles. While this trend definitely helped the steel industry, it also helped the environment because scrap recycling cuts down on both energy consumption and pollution.
Junk Cars and the Environment
An issue at the forefront of any discussion of climate change is the damage done by fossil fuel burning automobiles. What is less well known, however, is the harm done by idle junk cars. Even when they sit silently in a driveway or outside a garage, older cars still pose a threat to the earth's climate.
Toxic liquids such as engine oil, coolants and brake fluid may leak from their containers and seep into the ground below and eventually into our water systems. As a result, these chemicals have the potential to contaminate both the soil and our underground water supplies.
Indeed, the typical junk car has anywhere from 5 to 10 gallons of liquid leftover. This potential contamination not only threatens our health, but it also poses serious danger to plant and animal life. Furthermore, many of a car's materials such as headlights, plastic bumpers, and rubber tires can cause lasting damage because they are not very biodegradable.
Environmental Benefits of Recycling
Since nearly all of the materials from junk cars can be recycled, they don't wind up rotting and polluting the earth. Moreover, recycling aluminum requires 95 percent less energy than creating virgin metal, which can destroy natural habitats and endanger plant and animal life. As a result, experts estimate that reusing scrap metal saves approximately 85 million barrels of oil every year. Consequently, recycling old cars preserves many of the natural resources that would be consumed by things like virgin metal production.
Decreasing Landfill Waste
When trash in landfills begins to decompose, it releases dangerous greenhouse gases, such as methane, into the air. Other substances also find their way into the ground and water nearby as landfills gather more waste. Recycling old cars instead of sending them or their parts to landfills keeps the toxic chemicals within the car metals from contaminating the local soil and water. Therefore, removing and recycling junk cars is a great way to bypass this damage to the environment and to reduce your carbon footprint.
Ironically, China now uses more scrap in their steelmaking process due to their decision to restrict scrap imports to reduce pollution in response to environmental concerns. Indeed, increasing recycling on a global scale will create more green jobs and aid in the transition to a more environmentally friendly economy.
A Regulated Removal Process
Fortunately, car recycling centers must follow strict regulations which help to make their operation both ethical and environmentally friendly. The advantage of recycling your run-down or high mileage car is that toxic liquids and chemicals inside the car will not damage the environment because they will be discarded correctly.
By properly disposing of junk cars, we cut down on the overall amount of pollutants that leak into our soil, air and water, thereby reducing health problems that result from consuming contaminated water or inhaling toxic gases. Because older cars leak these harmful liquids after a while, it is important to deal with this issue as soon as possible.
If you need to get rid of your junk car, we come to your property and pick up the car at your convenience, so you never have to think about getting it to us. At No Limit Towing, we take your damaged automobile off your hands and give you cash in return. In other words, we help you free up space in your driveway while you help out the environment at the same time.
New Jersey Service Area
No Limit Towing maintains car towing centers in Newark, Irvington, and Union. Because we also have auto mechanics and trucks in other locations within Essex, Union and Hudson Counties, we serve the following towns and surrounding areas: Westfield, Linden, Plainfield, Summit, Rahway, Union City, Kearny, Hoboken, Bayonne, Jersey City, East Orange, Elizabeth, Hillside, Montclair, West Orange, Maplewood and Livingston.
---

Service Area
New Jersey & Pennsylvania

Mon-Sun
Open 24 hours
---